The New York Public Library is having an exhibition this winter, about Three Faiths And Manuscripts, or some such. Judaism, Islam, and Christianity, and their various adventures with calligraphy.
I'd link you to the relevant Library page, but the exhibition is not on the website yet, not even under "Upcoming."
Anyway, part of the exhibition is going to be films of various calligraphers doing their various calligraphic things, and one of the calligraphers is me.
The Library is this gigantic building on 42nd St. I got out of the train at Times Square and walked across town, because I don't do that very often and it's sort of picturesque, in a startling kind of way. It was chucking it down with a) rain b) tourists; I contemplated taking pictures of both, but I was running a little late, so I got you that image from Wikimedia instead, and you'll have to fill in the rain and the tourists from your imagination.
We were working in a large panelled room with large panelled doors and a large marble doorway and a lot of fancy-pants lights, some part of the museum's setup and some part of the photographer's kit. He was the best sort of photographer, the kind that just films and lets you get on with writing. The annoying kind keep going "Can you do that again? -Can you dip the pen again? Now can you kind of hold it like that?". I don't take that sort of direction while I'm writing any more; either you let me write, or I do something fake, but you don't get to tell me how you think me doing writing should look, because that messes up the writing, and I decided some time ago that my priority is always my work and never the camera – but I didn't have to explain that to this chap, which was a treat and a half.
The Library were most emphatic that if they had to have a lady scribe, she had to be doing something politically acceptable, so that orthodox visitors wouldn't freak out. Personally I think that once you have a Reform scribe in your video (which they do) you've got no reason to exclude a female scribe, but that just goes to show that the concern is not so much Orthodox Legal Sensibilities as Icky Girl Cooties. Then again, they could have chosen to exclude me completely, so I guess I'm mostly grateful.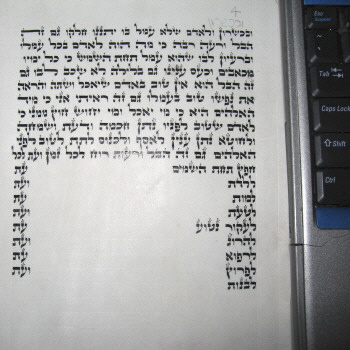 Anyway, that meant I didn't do anything Torah-related for their film, nor even the mezuzot I'm presently working on, no, I wrote some of the Megillah of Kohelet.
I'm sort of writing Kohelet and thinking maybe I'll finish it in time to read on Succot – at the present rate that doesn't seem very likely, but we'll see – anyway, as it turned out, I was writing this bit that day. Good for being filmed, because of the distinctive pattern.
It's the bit – you probably remember it, it's the only thing anyone remembers from Ecclesiastes – "a time to be born, and a time to die; a time to plant and a time to uproot; a time to kill and a time to heal; a time to tear down and a time to build…" It's poetry, obviously, and the rhythm of the words is reflected in the rhythm of the layout.
Side of computer included in image for size comparison and general pleasingness of contrasting media.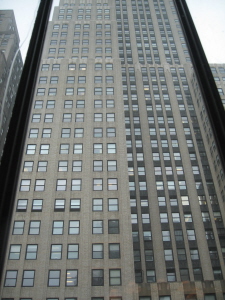 I did not take any pictures of me writing, on account of, I was busy writing. But afterwards, I took a picture of the view out of the window. And I took some photos of the tourists who kept trying to come in, for amusement's sake, but they didn't come out so well.
Days like that are rather funny to blog. I go to whatever location it is, and set up, and do my thing as I would at home, and someone hovers around with a camera, and then they go home and cut and paste and eventually they turn it into something that is splendid video but looks most unlike how I was feeling. I guess maybe an egg feels like that when it gets made into a cake. So too with blogging – I think you're sort of expecting to hear about the cake, and I'm more inclined to write about it from the perspective of the egg.
Thus it is that I can write a whole post about "Today I went to the NYPL to be filmed doing writing" and have no pictures of Teh Soferet Writing.
It was cool to go to the fancy-pants library, and see the pretty pretty architectural details, and swan nonchalently through doors labelled "Staff Only," but I'm most excited about this photo of the view from the window.
Never mind, eh? When the exhibition opens, I'm sure they'll have something online, and I'll tell you about it then. In the meantime – this is what it's like being an egg.