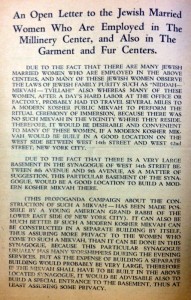 Today we have:
An Open Letter to the Jewish Married Women Who Are Employed in The Millinery Center, and Also in The Garment and Fur Centers.
The flyer isn't dated. I assume it's sometime in the 30s when lots of Jews were working in these areas, being ministered to by our Nathan Wolf, amongst others.
[The original is in ALL CAPS. I'm going to type it in lowercase to spare your eyes.]
Due to the fact that there are many Jewish married women who are employed in the above centers, and many of these Jewish women observe the laws of Jewish family purity such as "Niddah–Mikvah–Tvillah!"…
[I never did that mitzvah with an exclamation mark, perhaps that's why it never vibed for me?]

…also whereas many of these women, after a day's hard labor at the office or factory, probably had to travel several miles to a modern kosher public mikvah to perform the ritual ceremony of immersion, because there was no such mikvah in the vicinity where they reside, therefore, it would be desirable and convenient to many of these women, if a modern kosher mikvah would be built in a good location on the West Side between West 14th Street and West 42nd Street, New York City.

Due to the fact that there is a very large basement in the synagogue of West 34th Street between 8th Avenue and 9th Avenue, as a matter of suggestion, this particular basement of the synagogue, would be a good location to build a modern kosher mikvah there.

(This propaganda campaign about the construction of such a mikvah–has been made possible by a young American Grand Rabbi of the Lower East Side of New York City. It can also be much better if such a modern kosher mikvah can be constructed in a separate building by itself, thus assuring more privacy to the women who come to such a mikvah, than it can be done in this synagogue, because this particular synagogue usually has many worshippers during the evening services, but as the expense of building a separate building would probably be very large, therefore if the mikvah shall have to be built in the above located synagogue, it would be advisable also to build a special entrance to the basement, thus at least assuring some privacy.
You have to admire the chutzpah of this, don't you? Someone from the LES (i.e. nowhere near 34th St) is merrily suggesting that the 34th St shul undertake a major building project because it has a nice big basement. Don't know about then, but now that basement is a function space, and I should imagine the basement was used for meetings and suchlike then as well. It's a bit like dispatch 7, in which another flyer was very happy to boss us about; mikveh-building campaigns are all very well, but do people have to be so bossy?
I also wonder, just a bit, whether many of these women really were travelling several miles after work to a mikveh. I had the impression that immigrant Jews were more interested in theatre and labour unions and other preoccupations of the emancipated than in mikvaot, but I readily admit that my knowledge of New York's Jews in this period is patchy at best.
On the subject, have any of you ever heard that some women believed that touching a Torah scroll was a substitute for going to the mikveh? One Rabbi Steinberg mentioned it to me casually the other week, but didn't have more to say than that, and I'd like to hear more about that. It makes sense, in a way, if you think that Torah scrolls are ultimately pure and holy and that that is transmitted by touch. Anyone got anything more about that?
Anyway, the 34th St shul is still there and functioning, and I happen to know the rabbi (hi, Jason!), so I called him just to see if he'd ever heard anything about this mikveh project, but he said as far as he knew there'd never been a mikveh there. Which doesn't surprise me! I thought maybe I might go and try digging through the shul archives and seeing if the idea was ever raised at board meetings, but decided I have other things to do with my time. However, if any readers are ever interning there and don't know what to do with themselves, they should go have a dig and see. (Talking of bossing people about. Be glad I'm not telling you to go build a mikveh.)